The Unitarian Universalist Fellowship of Gainesville invites you to join Diverse & Revolutionary Unitarian Universalist Multicultural Ministries (DRUUMM) for their online public worship service and fundraiser.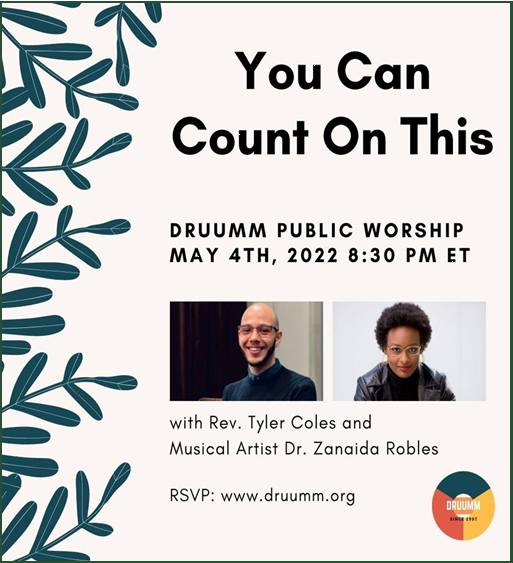 Faith can be both a guiding light and sustaining force throughout the course of one's life. Yet in a world that is all too cruel and harsh, faith can be twisted, becoming instead a tool that fosters both isolation and a sense of underwhelm. What do we do when this happens for us as Unitarian Universalists? Come, let us gather in the fortifying spirit of love made known in community as we re-member ourselves, for ourselves, in the presence of all that we choose to name as Holy. 
Featured Speakers:
Dr. Zanaida Stewart Robles (she/her) is an award-winning Black American female composer, vocalist, and teacher. She is a fierce advocate for diversity and inclusion in music education and performance. Authentic interpersonal connection and relationship-building are core principles of her teaching and performance methods.
The Rev. Tyler Coles (they/he) is native of Roanoke, VA, and the only child of Monica and Terry. Inspired by the good news of Unitarian Universalism, Tyler believes the best of our collective ministry strives towards conjuring "the Beloved Kin-dom on earth as it is in heaven." They engage this mandate through the work of multi-religious organizing, supporting young adults, and movement chaplaincy.
Our Worship & Fundraiser is an opportunity for the wider world of Unitarian Universalism to connect with DRUUMM and be in community together.
The Worship is open to everyone while prioritizing space for Black, Indigenous, and People of Color. We particularly encourage our DRUUMM members in multiracial families and White antiracist allies to join.
We are at a sensitive moment after two difficult years of pandemic and loss in our communities. Your witness and solidarity are greatly needed to help us thrive into the future. Our goal is to connect more deeply with our wider Unitarian Universalist community to share DRUUMM's mission, highlight some of our key activities, and raise funds in support of expanding our chaplain and pastoral care work with Black, Indigenous, and People of Color in Unitarian Universalism.
RSVP: https://tinyurl.com/DRUUMMPublicWorship by May 3rd, 2022
For more information, please contact Dawn Robinson our DRUUMM Administrator
dawn.druumm@gmail.com.
DRUUMM is the Diverse & Revolutionary UU Multicultural Ministries, a UU People of
Color organization. Learn more at www.druumm.org